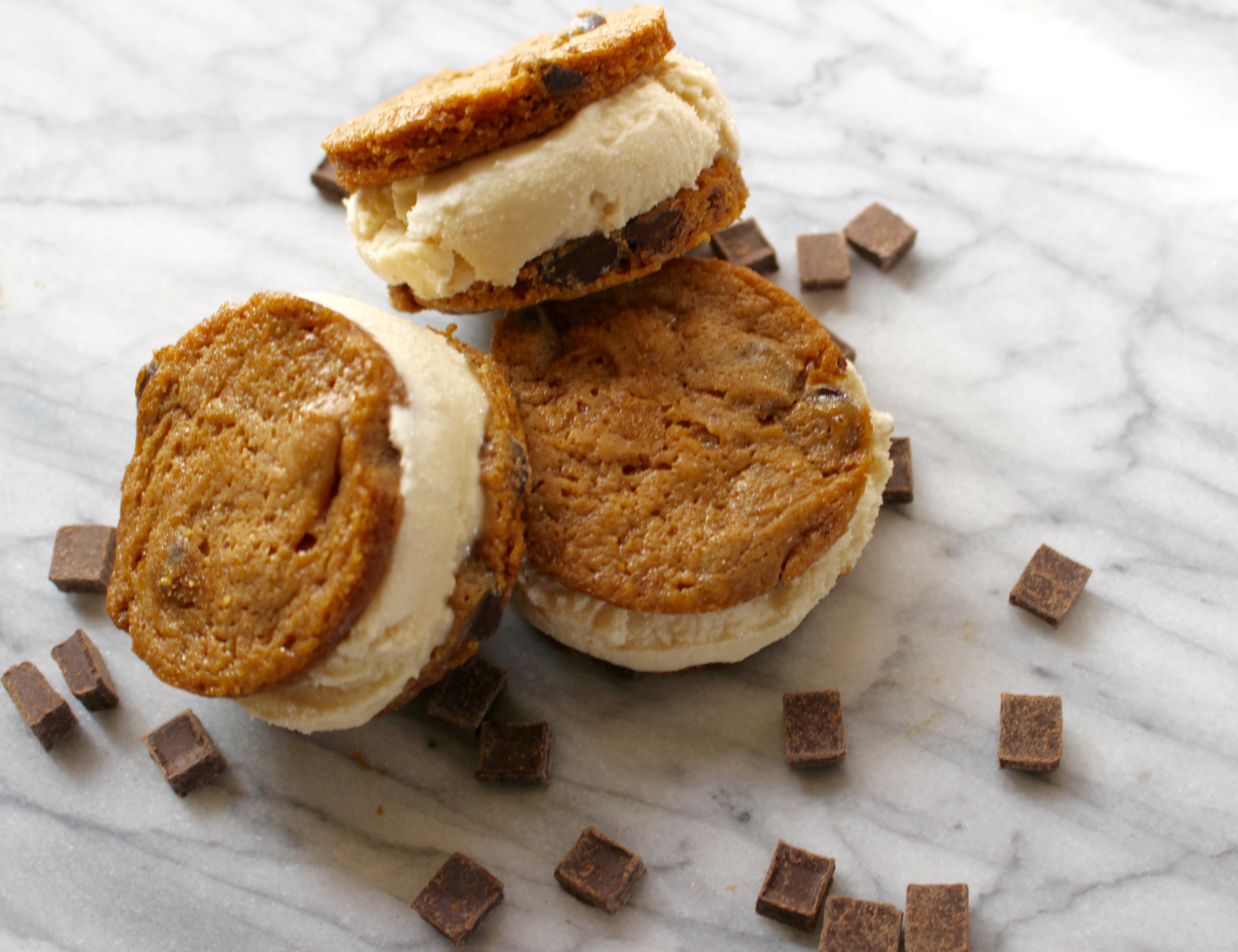 I know what you might be thinking…ice cream sandwiches in FEBRUARY? In southern California though, we have been having quite a warm winter. When Maya came home for Christmas, some days even got up into the 80s! So, there we were, in our neighborhood of snowflake and reindeer decorations, making an ice cream based dessert.
Regardless of the weather or time of year, this recipe is a real treat. The cookies are really designed for ice cream sandwich purposes, as they are extra chewy and soft (crispy cookies become tooth-shattering when frozen!). Once you have the cookies made, you can fill them with any ice cream you'd like, though we agree that vanilla tastes best. When I make them for my husband-who-eats-everything, I make some homemade, super decadent, whipping cream-based ice cream (recipe to come…). When Maya is home, I fill the cookies with a dairy-free ice cream to keep her tummy happy.
If you don't mind the sandwiches being more rustic looking, you can just plop the cookies on the baking sheet using an ice cream scoop and they will spread out as they cook. If you want them to be perfectly round, you can bake them and then cut off the rough edges using a metal, circle cookie cutter. Pro tip: save the cut off edges to use as a mix-in for leftover ice cream!

Flourless Peanut Butter Ice Cream Sandwiches
Author:
Healthy Cooking Daily
Ingredients
1 cup creamy, unsweetened and unsalted peanut butter
½ cup maple syrup
¼ cup coconut sugar
1 teaspoon vanilla extract
1 egg
½ teaspoon baking soda
½ teaspoon salt
½ cup dark chocolate chips
Ice cream of choice (dairy-free or not, but we recommend vanilla!)
Instructions
Make the cookies
Preheat oven to 350 °F.
In a medium bowl, stir together the peanut butter, maple syrup, vanilla and coconut sugar.
Add in egg and combine.
Stir in baking soda, salt and chocolate chips until everything is well combined.
Use an ice cream scoop that is 1.5 or 1.75 inches in diameter to form balls of cookie dough. Place on a parchment-lined baking sheet, leaving about 2-3 inches between each one.
Bake for 12-13 minutes (I find that at around 15 minutes they start to get overdone and more on the crispy side).
Assembly
Let cookies cool on the pan, then pop them into the freezer to harden for at least 20 minutes.
A few minutes before you start to assemble the cookies, take your ice cream out of the freezer to allow it soften.
Then, take out the cookies, fill with ice cream and gently pressing them together. Serve immediately or put back into the freezer for later.