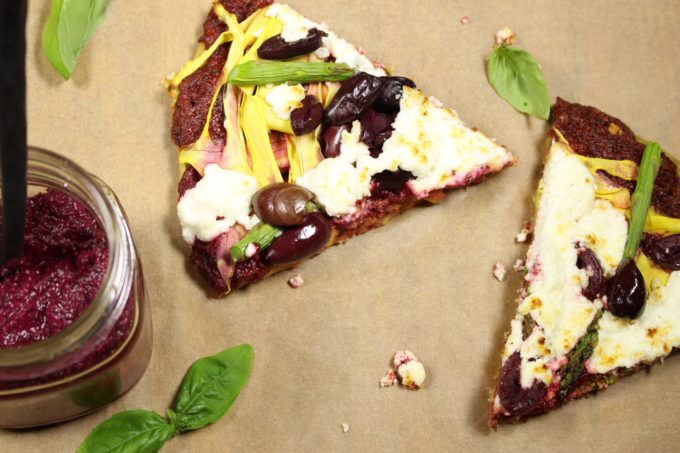 Farinata with Beet Pesto
Farinata is made with chickpea flour and no leavening. It resembles a pancake or flatbread and translates into "made of flour' in Italian. Gluten free flour that is. It is traditionally found in Liguria which borders France where it's called Socca. It's very easy to make whether you're looking for a softer pancake-like crust, or more of a crispy texture.
Author:
Healthy Cooking Daily
Ingredients
Farinata (Crust)
1 c chickpea flour
¾ tsp salt
1 c water
4 Tbl olive oil (divided)
Beet Pesto
1 c cooked beets (boiled, steamed, or roasted)
⅓ c walnuts or pine nuts
2-3 cloves garlic
¾ c grated Pecorino Romano cheese
Zest of 1 lemon
2 c fresh basil
½ tsp salt
⅓ c olive oil
Toppings
1 yellow squash
6-8 asparagus sprigs
Olives (your favorite)
4 oz Goat Cheese
Instructions
Farinata (Crust)
Mix the flour and salt together in a medium bowl.
Add the water and 2 tablespoons of the olive oil.
Whisk until well combined, and cover with a dishtowel for at least 1 hour.
After 1 hour, preheat oven and turn on the broiler.
Place a 10 inch iron skillet in the oven for about 10 minutes until it gets very hot.
Carefully remove the skillet from the oven and grease the pan with 2 tablespoons of olive oil.
Pour in the batter and return to the broiler for 5-10 minutes.
Keep it in longer if you're looking for a crispier crust.
Beet Pesto
Add all the ingredients to a food processor or blender, then slowly add the olive oil and combine well.
Top the crust with the pesto.
Add the yellow squash, asparagus, olives, and goat cheese.
Return to the oven for 20-30 minutes at 375 degrees.
*For vegan option, substitute nutritional yeast for the Romano and Goat cheese.